Cheeky Parade is a former Japanese pop idol group and a former main group of iDOL Street. The group was officially announced on February 19, 2012, and they made their major debut on January 9, 2013. They officially disbanded July 31, 2018.
The group's best selling release is the single "Mugendai Shoujo A".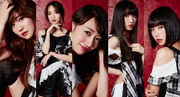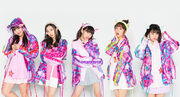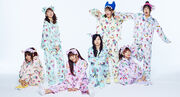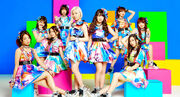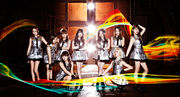 2012: Formation
Edit
Cheeky Parade was officially announced on February 19, 2012, at the iDOL Street Street-sei LIVE2012 ~Next Street~ concert. They released an indies single titled "Cheeky dreamer" on April 1, 2012. On September 22, 2012, it was announced that Cheeky Parade would make their major debut in January 2013 with the single "BUNBUN NINE9'".
2013: Cheeky Parade IEdit
After releasing three major singles and a digital single, the group released their first studio album Cheeky Parade I on November 27, 2013.
2014: TogetherEdit
On February 19, 2014, it was announced that Cheeky Parade would embark on a tour called Cheeky Parade Nine Lives Tour ~Road to NY~, which would start in April in Japan and end on October 11, 2014, with a concert in New York, USA, their very first overseas concert.
On June 18, 2014, they released a mini-album titled Together.
2016–2017: Cheeky Parade II, line-up changes Edit
On June 6, 2016, Cheeky Parade released their second full album, Cheeky Parade II. On June 25 Yamamoto and Mariya went on a two year hiatus as they are studying aboard with GEM's Takeda Maya in LA. Sekine passed down the leadership to Suzuki Yuriya. On April 26, 2017 Cheeky Parade released their eighth single Shout along!
On May 19, 2017, Mirozogi Seran and Kodakari Momoka announced their withdrawal from the group through a statement on the group's official website[1]. The two girls' last activity was the "Cheeky Parade LIVE LIVE LIVE VOL5" at Shibuya WOMB on June 9, 2017. The group continues as a 5 member group with two members (Marin and Mariya) still on hiatus.
On September 2 and 3, 2017, Cheeky Parade performed at JAPAN EXPO IN THAILAND.
On April 12, 2018 Cheeky Parade announced they will disband July 31, 2018. [2].
Hiatus
Former Members
Edit
Discography
Edit
Studio album
Mini album
Indies single
Major singles
Their name is often abbreviated to Chikipa (チキパ).
References
Edit
External Links
Edit